The Farewell to Gerben Bruinsma
Freda Adler Distinguished International Scholar Award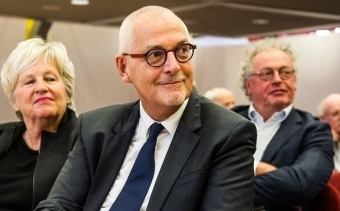 In May 2017 former director Gerben Bruinsma retired from the Netherlands Institute for the Study of Crime and Law Enforcement (NSCR). To mark this occasion, NSCR organised a symposium on Friday, May 12th 2017, focusing on his contribution to criminology.
Gerben Bruinsma obtained his PhD at the University of Nijmegen in 1985. His dissertation examined crime as a social learning process. Since then he shifted his attention to the themes of geographical and theoretical criminology, and the history of these disciplines. He has published mainly in the areas of crime, law enforcement and criminological theories.
Gerben has made an important contribution to criminology over the years. He was co-founder and director of the International Police Institute Twente (IPIT) and from 1995 to 1999 extraordinary professor of Criminology at the Faculty of Public Administration at the University of Twente.
In the period 1999 - 2014 he was scientific director of NSCR. He was also Professor of Criminology at the University of Leiden (1999 - 2009) and subsequently Professor of Environmental Criminology at the VU University Amsterdam (from 2009). In 2009, he was awarded the first from the American Society of Criminology. From 2014 to 2015, he was President of the European Society of Criminology.
During the symposium, we reflected on themes as criminological theories and environmental criminology with a number of prominent guests. Speakers included Friedrich Lösel (University of Cambridge / University of Erlangen-Nuremberg), Lieven Pauwels (Universiteit Gent), Terence P. Thornberry (University of Maryland), Michael Tonry (University of Minnesota) and David Weisburd (Hebrew University / George Mason University).
Gerben Bruinsma is also this year's recipient of the Sellin-Glueck award in criminology, the highest award given by The American Society of Criminology to scholars from outside the United States of America. The Thorsten Sellin & Sheldon and Eleanor Glueck Award aims to draw attention to criminological scholarship that considers problems of crime and justice outside the USA.
The committee selected Gerben Bruinsma for this award not only for his scholarship, but also for his role in building institutions in the Netherlands that have produced a generation of well trained and accomplished empirically oriented criminologists. This new generation of criminologists is playing a central role in leading important scientific efforts that are having influence on international trends in research on crime.
Gerben Bruinsma will be presented with the award, achieved for his 'truly remarkable contributions to international and comparative criminology' at the Society's international conference in Philadelphia in November 2017.